Setting the standard
FREE* EXPLORATORY TRIP to Panama
Have a FREE* EXPLORATORY TRIP to Panama and discover what a beautiful country you could soon be calling home.
*Free if you reserve at either Sunset Point or Volcan Pacifica.
Email us at
SEVEN luxurious nights arranged by us We're all old enough and grey enough to know that there's no such thing as a free lunch! But there really is a free luxury week in Panama, provided you make a reservation at one of The DreamScape Group's developments. If not you will still have lived an experience of a lifetime for only $2,500 per couple. Our dedicated concierge service will arrange everything, all you need to do is email us with your preferred travel dates and we will confirm your itinerary, which will be as follows:
Volcan Pacifica, near Volcan, Chiriqui, Panama.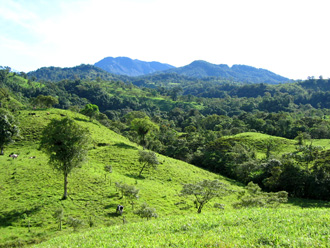 Island at Bocas del Toro, Panama.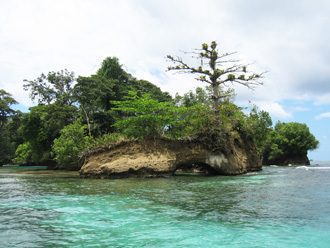 Day 1: Arrive Panama City airport in style, you will be met as you exit the aircraft for your speedy VIP transit through Tocumen airport, relaxing in the VIP lounge while your luggage is collected and passports stamped. Twenty minutes later you'll be at the Decapolis Hotel (with $20 worth of welcome drinks on us) to put you in the mood for your first night's experience of the vibrant and exciting Panama City.
The cool highlands of Panama
Day 2:After the best breakfast in the city you will be whisked by our VIP car service to Albrook airport where a light aircraft will fly you for 50 minutes to David, gateway to the cool Highlands of Panama where your 4x4 vehicle will be waiting to allow you to explore this beautiful terrain. And the stunning 45-minute drive to your 5-star hotel in Volcan is sure to take your breath away.
Day 3: Another hearty breakfast will put you in good standing for the adventure ahead of you: depending on your preferences the day will be spent either hiking, horseback riding, 4x4-ing or ATV-ing - or perhaps a combination of all four - in the safe hands of your DreamScape Group guide you will tour Volcan Pacifica, the premier development in the Highlands of Panama.
From Volcan over to Bocas del Toro
Day 4: Depart David airport for the 20-minute hop across the continental divide and leave the land of 'eternal springtime' behind you as you touch down in the Caribbean paradise of Bocas. Naturally you will be met at the airport and transferred to your luxury hotel by a member of our ever-helpful staff.
Day 5: All you'll need is your bathing suit, sunglasses and suncream, as the Sunset Point power boat collects you from your hotel over the water and takes you on a tour of what is without question the most outstanding waterfront development in the whole of Panama. And after lunch some snorkeling on our coral reef or a fast boat ride to Starfish Beach, Dolphin Bay or the white sands of Zapatilla Islands, to introduce you to the unspoilt beauty of these places.
Day 6: Your boat captain and guide from yesterday is sure to have whet your appetite for adventure and will help you decide how to spend your last day (for now) in paradise.
Visit the Panama Canal
Day 7: Another short 50-minute flight and you'll be back in Panama City for your tour of the Panama Canal, followed by lunch at the Miraflores Locks and Museum. The afternoon is yours to explore the old town of Casco Viejo or the ultra modern shopping centers (among many other things) that Panama City has to offer.
Day 8: Your return flight home will have your head filled with dreams of this perfect new land you have just discovered.
Sunset Point visitors at Bocas del Toro.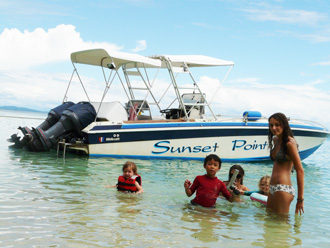 9°, an excellent new restaurant at Bocas del Toro.
Telephone our Panama Office: +507 757.9566
Cell: +507 64.30.40.50
Telephone our Miami Office: +1 786.220.4654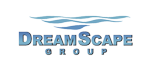 Copyright: The DreamScape Group