March 2009 Newsletter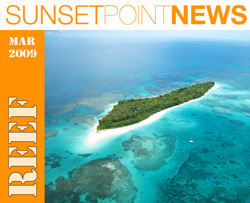 Subscribe to our Newsletter + get our Free* Luxury Trip Itinerary
* Conditions apply.
Master Site Plan of Sunset Point, Bocas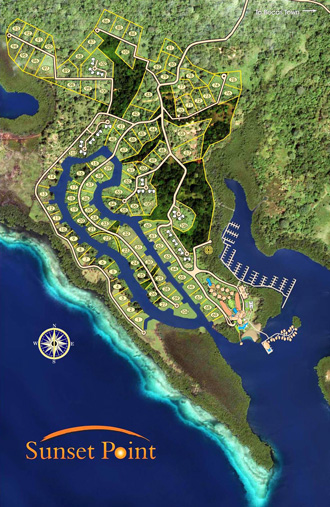 Master Site Plan of Sunset Point, Bocas
"... the most environmentally friendly development in all of Panama."
Esther Mena de Chio, Governor, Bocas Del Toro Province, Panama.
Sunset Point: unique Bocas del Toro Real Estate
IMPORTANT NOTICE - INVESTORS BEWARE
Sunset Point, Inc. has been subjected to serious criminal activity.
As a result criminal and civil legal action has been initiated through the Panamanian Courts to ensure alleged illegally transferred land assets are returned to their rightful shareholders and clients of Sunset Point, Inc.
Click Here for more information.
The Property
Sunset Point is situated on 200 fully titled acres of the most beautiful land in all of the Caribbean and features two miles of aqua blue canals, protected, deep water lagoons and access to the amazing island archipelago of Bocas del Toro - Sunset Point is truly unique. Building sites are carefully crafted to take advantage of this wonder of nature, whether on the Almirante Bay side with access to the incredible living coral reef, to rising hillsides and their tropical timber, cool breezes and indigenous wildlife. Residents of this natural wonderland include dolphins in the azure waters, howler monkeys and sloths in the forest, and numerous quarry for fisherman both inshore and deep sea. The need for responsible stewardship of this incredible property is not taken lightly, with every possible system, building technique, and process analyzed carefully to insure the protection of this rare ecosystem.

Videos of Sunset Point and Bocas del Toro
We are now developing four sites in Panama: Sunset Point in Bocas del Toro, Volcan Pacifica and Zen Mountain in Volcan, and Burica Beach in Puerto Armuelles. And we have just produced a new DVD highlighting these four developments. From this DVD, we have prepared some high-resolution Flash video excerpts of Sunset Point and Bocas del Toro (and in a variety of sizes suitable for download).
FREE* EXPLORATORY TRIP to Panama

SEVEN luxurious nights arranged by us We're all old enough (and grey enough) to know that there's no such thing as a free lunch! But there really is a free luxury week in Panama, provided you make a reservation at one of The DreamScape Group's developments. And if you decide not to make a reservation, you'll still have had the experience of a lifetime for only $2,500 per couple.
Sunset Point is perhaps the best example of a master-planned community on the Caribbean side of Panama: sympathetically built to exacting standards, and with minimal environmental impact, it is situated directly behind a large coral reef, fronting the gorgeous Almirante Bay. It is completely private and secure, yet only 20 miles from the Costa Rican border, and ten minutes from Bocas town (and airport).
And just around the corner, mile upon mile of pristine beach ... all this only ten minutes (by boat or road) from the main town (and airport), Bocas del Toro. So the access is absolutely first-class too.
See a gallery of high-quality images of Sunset Point.
A Few Facts about Panama, Bocas del Toro real Estate and Volcan Real Estate in 2008/2009
Bocas del Toro real estate , as 2008 slips into 2009 is, for many potential investors, an increasingly attractive option. With the current turmoil in the world financial markets likely to lead to long (and depressed) recovery times in many countries, a lot of people are looking around for a safe place to invest, both their time and their money. And Panama is popping up on the worldwide 'radar' more and more. Here are a few reasons why:
Please Note: We urge you to do your own independent research on Panama - we have done so, and the more we look, the more we find to like. We trust you will too.
Costa Rican Real estate Out - Panama Real Estate In
Costa Rican Real v Panama Real Estate: Several of the ex-pats from Costa Rica I have discussed the situation with over the last four months (Ed: Richard Harries) have expressed the view that Costa Rica real estate is no longer attractive, whereas Panama real estate has a great deal to offer (better real estate prices, less crime, better infrastructure, government support etc.,) and they particularly like Bocas del Toro real estate (for the island life) and Chiriqui real estate (for the cool mountain life).
South American Real Estate Out - Panama Real Estate In
Panama: the solid bet - It is beyond dispute that Panama has a stable government, solid finances and a flourishing, healthy economy - and a visionary forward-looking open-door policy to ex-pats looking to retire or relocate. Most, if not all, other South American and Central American countries currently do not offer anything like the same solid proposition, either for investment in real estate, freedom from crime, or in the stability of the government/economy. That is not to say they won't in the future - they just don't at the moment.
Boquete Real Estate versus Volcan Real Estate
Chiriqui Real Estate: In the case of Chiriqui, ex-pats are tending to focus their interest in real estate to the west of Volcan Baru. Boquete real estate, in particular, on the east, is widely viewed as having reached saturation: prices there are high, and there is not much desirable space left to build. Volcan real estate, on the other hand, and the extensive real estate in the many remoter locations around Volcan town, is still well priced, often has reasonable infrastructure already in place, and covers a large, undeveloped and rugged area.
Bocas del Toro Real Estate
With Bocas del Toro real estate, whilst there are over 300 islands, there are probably around 10-20 islands that really have some potential for sympathetic development. Of these the real estate on the main island of Isla Colon probably offers the best deal for someone looking to purchase real estate, as it comes without the substantial extra price tag of putting in the infrastructure needed to build/live on one of the less-developed islands.
Isla Colon Real Estate
On Isla Colon, On Isla Colon, there is swift access to the main town of the archipelago (also called Bocas del Toro), and there is a reasonable infrastructure to the island - unmetalled roads, electricity, some water, some internet access. There is also excellent access by boat - to be honest, in Bocas del Toro you either want to have a boat permanently to hand, or ready access to one.